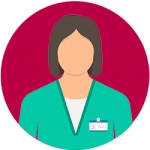 Job Description
Why did you want to become an Optometrist?
I assume for 90% of you, it was to help people with their vision.
No matter where you work you're going to be able to help with that, because that's what an Optometrist does. However ask yourself if you're actually fulfilled in your role? How can you increase your job satisfaction?
Domiciliary care is like marmite, some people hate it, some people love it… but there's no denying that getting out into the community and delivering eye care to those people who can't get to a high street practice isn't rewarding. You're helping the elderly, the vulnerable and most of the time, those who need the help the most.
Maybe the role you're in now has become too sales focused? None of that with domiciliary – obviously there are targets and goals to meet like any business, but because you're dealing with the vulnerable you aren't needed to force sales upon them – instead – if they're needed then they're needed, so a good 90% of your day will be with a clinical focus. You'll also see a considerably less amount of patients in a day to what you typically would do in high street testing which can only be a great thing right?
What else do you want other than a job that's rewarding and gives you genuine satisfaction? A company car? Tick. A market leading salary? Tick. Support from other colleagues who are out in the field too? Tick. No weekend work? Tick. Flexibility on days of work? Tick.
I could keep going, but I think that's enough to make you think about your role and that you might want a switch. So if this does sound like something you're interested in then hit apply and we can run through the company and job specification in more details. Or email Grant.S[email protected].
Other jobs you may like