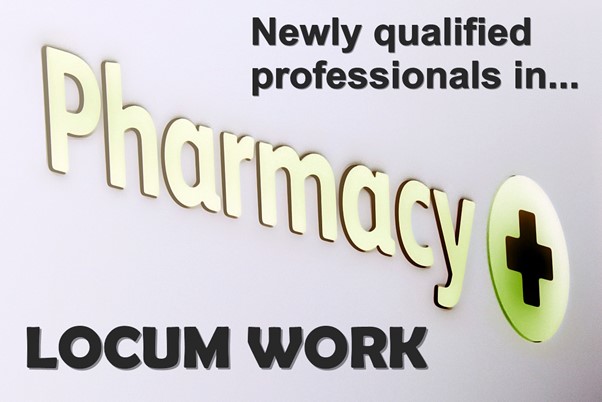 One of the ways in which a newly qualified pharmacist can quickly gain a wealth of experience, is through locum work.
We looked, in our Career Advancement For Pharmacists post, at how locum work can help a less experienced pharmacist to build contacts. That's an attractive prospect for someone just getting started and wanting to maximise their realm of career choice. But it's by no means the only motivation. Back in the summer, we explored some lesser recognised reasons why locuming attracts so many healthcare professionals, and we found ten very positive benefits in all.
It's not difficult for a newly qualified pharmacist to register with an agency as a locum.
But registering with an agency and maintaining a healthy timetable of bookings are two very different things. Our recent analysis of a full year's worth of agency registration data revealed that a very considerable proportion of pharmacists don't sustain regular bookings. That, we should stress, includes experienced registrants.
However, whilst it may seem that things are going to be harder for new pharmacists, that's not the picture our analysis painted. One major advantage new pharmacists have is that they qualify, and thus approach agencies, in the summer, when the demand for locums is at its peak. Another is that new pharmacists are often very keen to progress and establish themselves. If they know the requirements and expectations, act professionally, and are prepared to put in the effort, newly qualified pharmacists can perform extremely well as locums.
In fact, we found that the statistics for inactivity among new agency registrants did not significantly rise immediately after the newly qualified locums became available. Especially taking into account the impact an influx of new pharmacists has on the market's overall supply and demand ratio, it appears that newly qualified pharmacists are not at an inherent disadvantage in the locum world – especially if they approach the right agency, early, well prepared. Let's take a realistic look at how a new pharmacist can prepare…
FIRST THINGS FIRST
It's highly likely that a newly qualified pharmacist interested in locuming will begin by approaching a specialist locum agency. However, not all locum agencies are alike. The key factor with an agency (from the locum's side) is the size of its client-base. Agencies with small or limited client-bases may well be happy to sign up a locum, but available work could be in very short supply. The registration processes for bigger, busier and more professional agencies are likely to be more rigorous, but taking the quickest route is likely to be a false economy.
REGISTERING WITH THE AGENCY
Agency registration processes vary, but pharmacists should be wary of processes that are too easy, that don't request evidence of key professional accreditations, or that don't require references. Here's what a newly qualified pharmacist should expect to provide during registration with a professional agency…
Identification and proof of the right to work.
Evidence of GPhC registration.
Evidence of valid Indemnity Insurance.
Evidence of MUR (Medicines Use Review) accreditation.
The documentation is typically supplied online, in an electronic image format such as JPEG or PDF.
Whilst the above items have for long been considered the essentials, there's a list of other accreditations, without which a new pharmacist will find it difficult to secure bookings. They are…
DBS (Disclosure & Barring Service) checked status. Team Locum can arrange this on request.
An EPS2 Smartcard with a FFFFF locum user role profile. Without this, a pharmacist will not have personal access to the Electronic Prescription Service (Release 2) system, and as a result, most pharmacies will be reluctant to book them. If you have difficulty obtaining a FFFFF EPS2 card, Team Locum should be able to help.
A CPPE Level 2 Safeguarding Children & Vulnerable Adults accreditation. As we write this post, large pharmacy chains are setting imminent cut-off dates, afterwhich they will not accept pharmacists without this accreditation. Whilst this requirement is being piloted for one year only and we can't yet predict what happens after that, it's certainly going to apply for the summer of 2017.
Whilst investigating the Safeguarding accreditation on the CPPE website, it would also be beneficial to look into the EHC (Emergency Hormonal Contraception) qualification.
EHC capability is not universally required, but again, it's very frequently requested, and it can substantially increase the number of bookings a locum is offered. EHC comes in two versions…
Essential: permitting the pharmacist to sell the product over the counter.
Enhanced: permitting the pharmacist to provide the product for free, in addition to the above. Some pharmacies insist on the Enhanced EHC accreditation when booking a locum, and a lot of locums don't have it. It's therefore an instant jump to the front of the queue for the locum who does.
Pharmacists are also required to be Dementia Friends. This is a very quick accreditation to acquire, via the specific Dementia Friends website.

Visit the TEAM LOCUM HOMEPAGE for more info.
Fundamentally, new pharmacists should seek to add as many accreditations to their profiles as possible. An easy one to add (but which locums don't typically add by default) is the NMS (New Medicine Service) qualification. All MUR-accredited pharmacists can self-assess as NMS-capable by completing and signing a form. If a new pharmacist uploads an image of that form to their agency profile without being asked for it, they're going to be adding another little boost to their prospects. Pharmacists who keep stacking up those little advantages are the ones who end up with full locum timetables, and the enviable status of being able to turn down work, rather than having to chase it.
GAINING GREATER ADVANTAGE
Because pharmacists qualify in the summer, when there's high demand for locums, newbies get a golden opportunity to demonstrate their professionalism and quality. If a locum has the right attitude, then no matter how new they are, an agency will be interested.
The key is to make the first opportunity count. If that first opportunity doesn't put a smile on the client's face, or if it becomes a work-intensive experience for the agency, there may not be a second.
That sounds very harsh, but a busy agency just won't have time to make several attempts to contact a locum. Locums who are difficult to contact, or who don't respond to messages at the first opportunity, will not impress.
Once a pharmacist's agency registration is complete, he or she should pretty swiftly receive a call from a Bookings Consultant, to discuss work options. The pharmacist should, at this point, be able to provide an accurate picture of their availability for a couple of months ahead. If things are going to go wrong, this will probably be the moment. The Bookings Consultants have to work at warp speed to accomplish their tasks. At a good agency, the Consultants will be friendly and professional, but they're always racing against time, so if a locum gives the impression that he or she is unprepared, unpredictable, or difficult to contact, he/she may pretty instantly be cast aside.
AVAILABILITY
What you're going to be doing in six weeks' time may not seem that important at present, but projected availability is the absolute cornerstone of locum work, and can be the difference between regular bookings and no bookings at all. Team Locum provides an online calendar, which allows locums to set or update their availability at their own convenience. Any data a locum marks on the calendar pushes through to the main control systems at the agency office, so the Bookings Team can see at a glance whether or not that locum is available for a given vacancy.
However, a high proportion of locums leave their calendars blank – perhaps thinking that this will gain them more offers of work. In reality, it does the opposite. A blank calendar is typically interpreted by Team Locum's Bookings Team as "not updated" or "inaccurate". That means they'll almost inevitably approach other locums first. Each call takes precious time when there's a booking at stake, and as such, the Team will call the locums they know are available first.
But this is good news for a newly qualified pharmacist. It's an opportunity to leapfrog over lots of more experienced pharmacists, and join the locums who are easiest to book. A locum's reliability comes into play not just on the day of the booking. It's also inherent in a locum's communication of information to the agency. Setting accurate availability, for a period well ahead, is simple and quick to do, but it can have a huge, positive impact on offers of work.
To summarise the issues which will quickly see a locum drifting into inactivity… Good agencies can't use locums who:
Fail to update expired accreditations.
Constantly neglect to communicate their availability.
Don't respond to messages.
TRAVEL
Locums' travel expectations can vary widely. Some new locums are prepared to travel distances of between 50 and 80 miles. Perhaps more. Others, meanwhile, feel that more than 20 miles is too great a journey, and the odd few may feel that even 15 miles is a stretch. Team Locum will ask about a registrant's travel radius when they submit their application, and may recommend an increase, depending on the pharmacist's answer. Particularly in competitive areas, a limited travel radius is almost certain to severely limit bookings.
In densely-populated areas with high client demand and low locum supply, a modest travel radius is feasible. However, most active locums do set substantial travel radiuses. In areas such as the West Midlands, the lower end of the radius scale among regularly working locums tends to be around 40 miles. Setting a higher radius, if possible, is going to greatly aid a newly qualified pharmacist in getting started within a highly competitive area.
Along the South Coast, into Devon and Cornwall, up to Bristol and South Wales, then similarly from Kent up the East Coast of England, there are many hotspots where locums will find it very easy to sustain a regular timetable. There are more hotspot districts in our Career Advancement article.
Don't forget that for long distances, travel expenses may well be payable.
GETTING PAID
Payment rates are of course agreed and confirmed in advance of each booking, but they vary from region to region, and in some cases from season to season. A good agency will draw a line at what it considers unreasonable rates, but general trends in the market will always drive the basic average for a given area. Agencies often ask new pharmacists to set a minimum hourly rate, below which he or she would not accept bookings. This can be a difficult question for a newcomer to answer, but the figure is only used as a guide, and it can be updated by the locum at any time. Furthermore, a professional agency will be able to give advice on the general trends in a given location. Whilst a new pharmacist should not be working on the cheap, they'll equally want to avoid pricing themselves out of the market.
The locum will be dealing directly with clients when it comes to payment (most typically leaving an invoice at the store or establishment). But the good news is that a professional agency will step in to help when their locums have problems getting paid. Particularly for a new pharmacist, it's great to have that reassurance. For their own sake as well as their locums', agencies will not want to be dealing with clients who have trouble paying.
We've provided an overview of how locums get paid, but in case you're wondering how the agency makes money, it simply charges the client a set booking fee for each booking it facilitates. The locum always gets 100% of the hourly rate agreed for the booking, straight from the client.
SUMMARY AND CHECKLIST
Locum work does give newly qualified pharmacists a fantastic opportunity to spring into immediate action, whilst building an enviable level of control over their careers. And because locum work is rich in contacts, it can also prove a natural platform for career progression.
Here's a quick checklist, which should ensure you cover all the bases which often prevent locums from securing bookings…
Have you provided the agency with ALL your professional accreditations, and taken steps to acquire the commonly demanded qualifications?
Have you ensured that the locum agency is aware of your exact availability?
Are you easy to contact, or quick to respond to ALL messages you can't answer immediately?
Is your travel mileage radius realistic for your area?
Is your minimum payment rate set in the right place?
If you're expecting to qualify this summer, and have any further questions, you can contact us via [email protected] or call us on 0121 451 2707