How To Get A Care Worker DBS Check
If you are working in the UK as a Care Worker it's likely that you will need an enhanced DBS check. A criminal record check is carried out to assure any employers that the candidate is suitable for the role and able to work with vulnerable adults and children.
If you live and work in Scotland, you will likely need a to join the PVG scheme as they do things slightly differently up north. For more information on the PVG Scheme you can click here.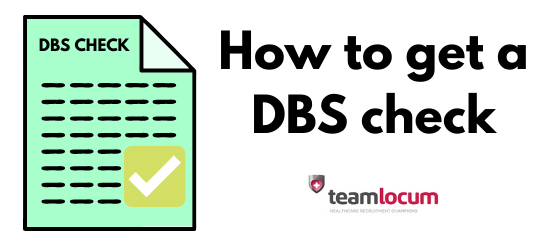 How to apply for an enhanced criminal record check
We will run through the whole process of applying for a DBS check below, but if you have any questions or would like some more information give us a call on 0121 451 2707 or drop us an email by clicking here.
Applying for a DBS check with Team Locum couldn't be easier. If you're a Care Worker, simply follow the 3 steps below to apply for your criminal record check.

Things have changed recently
Before you start the process please ensure you have your required ID documents to hand.
You need to email us, we will then submit your name and email address, you will then receive a link to complete your application. It will then come through to us for review, once that's completed it get sent to the Disclosure Services.
What documents should I use to apply for a DBS check? You will need 3 ID documents to apply for your DBS check. The most commonly used ID documents are passports, driving licences, birth certificates, and bank statements, however there are several other ID documents you can use to apply for your DBS check. At least one of your documents will need to be in your current address. If you are unsure which documents to use, please feel free to drop our admin team an email by clicking here.

Verify your documents
You can come into the Team Locum office so that a member of staff can verify your documents. Or you can email in to [email protected].

Pay for your DBS check
The fastest, easiest, and safest way to pay for your DBS check is though BACS transfer.
The cost of a DBS check is as follows:
If Team Locum have verified your documents – £60.00
Our payment details can be found below:
Bank: HSBC
Account number: 71401181
Sort code: 40 – 11 – 20
Reference: Your full name and surname
Please bear in mind that the payment can take up to 24 hours to process.

Once you have completed the online form, had your documents verified, and made the payment for your DBS check we will cross check all of your documents to ensure everything is correct. We will then submit your DBS check and send you a tracking number via email the next working day so that you can track its progress.
Once the check is complete your DBS certificate will be posted to your home address. We recommend that you register with the update service as soon as you receive your certificate to ensure that your DBS check is kept up to date. Please keep your certificate safe as you may be asked to show this to future employers, even if you are registered with the update service.

How long does a DBS check take?
Criminal record checks can take up to 3 months, however most are usually completed within a couple of weeks, and sometimes even within a couple of days.
Why an enhanced DBS check?
An enhanced DBS check is the highest level of check available. Most roles within the healthcare industry require an enhanced DBS as this level will check for cautions, warnings, reprimands, and convictions, as well as checking if the candidate is barred from working with children or vulnerable adults.
The update service
The update service is a yearly subscription service which ensures that your DBS check is kept up to date. This is important because unless your DBS is on the update service companies, other than the one who processed it, will not be able to use it. By registering for the update service you can save yourself the cost of applying for a new DBS check each time you decide to work for a new company or agency.
The update service costs £13 a year and can be applied for by clicking here.
It is important that you keep your bank details up to date with the update service, as if they expire, or your payment bounces for any other reason you will no longer be on the update service and you might not receive a notification of this.
When should I repeat a DBS check?
According to gov.uk there is no official expiry date for a DBS check. Any information on the check will be up to date at the time the check was carried out however it is up to individual companies to decided when a new DBS check is needed.
Here at Team Locum we only accept DBS checks carried out within the last 12 months, unless they are registered with the update service. Any DBS checks that are not registered with the update service will be set to expire on our system once they reach 1 year old as the majority of companies require a DBS check on the update service.
I'm a with a criminal record
When applying to work with a new company or agency you should always disclose any criminal records. Having a criminal record does not mean you won't be successful, that will be down to the GHPC and individual companies to decide.
Can I register with Team Locum without a DBS check?
As a Care Worker you can start the registration process with Team Locum before you have a DBS check. Our online sign up form will ask that you provide one however you can very easily skip this this by simply uploading another document in its place for now. If you have any questions or issues with the registration check please feel free to give us a call.
If you have any questions about getting your DBS check, get in touch with our admin team who will be happy to talk you through the whole process.
Give us a call on 0121 451 2707 or drop us an email by clicking here.
Should a Locum Agency Be Run By Healthcare Professionals?
More than ever in entrepreneurial circles, it seems, there's a belief that anything is possible. Business is, after all, a world bursting with a self-fulfilling prophecy. Proclaim it; live it.
As one Derek Trotter would have said: "He who dares, wins". But is setting up and running a healthcare locum agency really that simple? Is it true that any old smooth-talker with a computer and a telephone can make a success of such an agency? I mean, provided the locums are qualified and know what they're doing, that's fine… Isn't it?…
"When it was obvious I needed help for my husband I called on Team Locum. They met me in our home and assessed our needs with a review of me and my wishes. Later that day they visited him in hospital. Within 24 hours they were ready to welcome him home. We have in place now for over a year, a regularly reviewed care plan with people who treat my husband with the very best care and dignity. The team also see to my needs and reassure me daily that we are doing the best we can! "
"Our daughter has cerebral palsy and has learning and physical disabilities. Her life has been transformed because of the dedication, professionalism and commitment of the care staff who look after her day to day
Her life is organised according to her needs now – she has input into everything that goes on every day. She is happier, more chatty and involved in all planning of her care. Her carers support her to achieve her full potential which has meant that her life is much more meaningful than previously. They assist in her physiotherapy on a daily basis which has improved her physical abilities considerably.
During the coronavirus pandemic they have supported her emotionally and psychologically so that she can not only cope but enjoy her life in these testing times"
"We would like to thank Team Locum Nursing and Care for their continued support in providing us at Breach House with hard working, reliable and well equipped care staff. The care Staff provided to us are all very well trained and have varied experience which is essentials in this sector. The majority of the time they have been able to provide staff to cover shifts either planned or at short notice. They keep us well informed and updated regarding our shifts request."
"I have worked for Team Locum for over a year now and in that time the staff have always been very supportive and accommodating when it comes to hours we are working and any problems we have.
They have very high standards when it comes to care work but are always on hand and happy to guide you through the process which makes it an enjoyable experience to work here.
The Staff in the office are always very friendly and happy to see you, we are not just employees to them the treat us like they treat the service providers."